Alkoholfra IPA med sommerstemning…
Bryggeri: Kissmeyer
Type: Pale Ale
Indhold: 50 cl
Styrke: 5,5 %
Genstande: 1,8
Gærtype: Overgæret Undergæret
Fra etiketten: Anders Kissmeyer is the master brewer of this series of IPAs. He is one of the most respected brewers in the world. Much more respected over there, than here.
Modelled after the two other beers in the Kissmeyer Can series (NEIPA and Session IPA), with the same malt profile, lightness, low bitterness and the NEIPA focus on intense hop aroma and taste, supplemented in this beer with a robust fruitiness from apricot and Seville orange. Intense, medium dry, very fresh (slight fruity sourness), very fruity with unobtrusive malt support and light, soft bitterness. Long and lingering, very fruity and hoppy aftertaste with note of bitter Seville orange.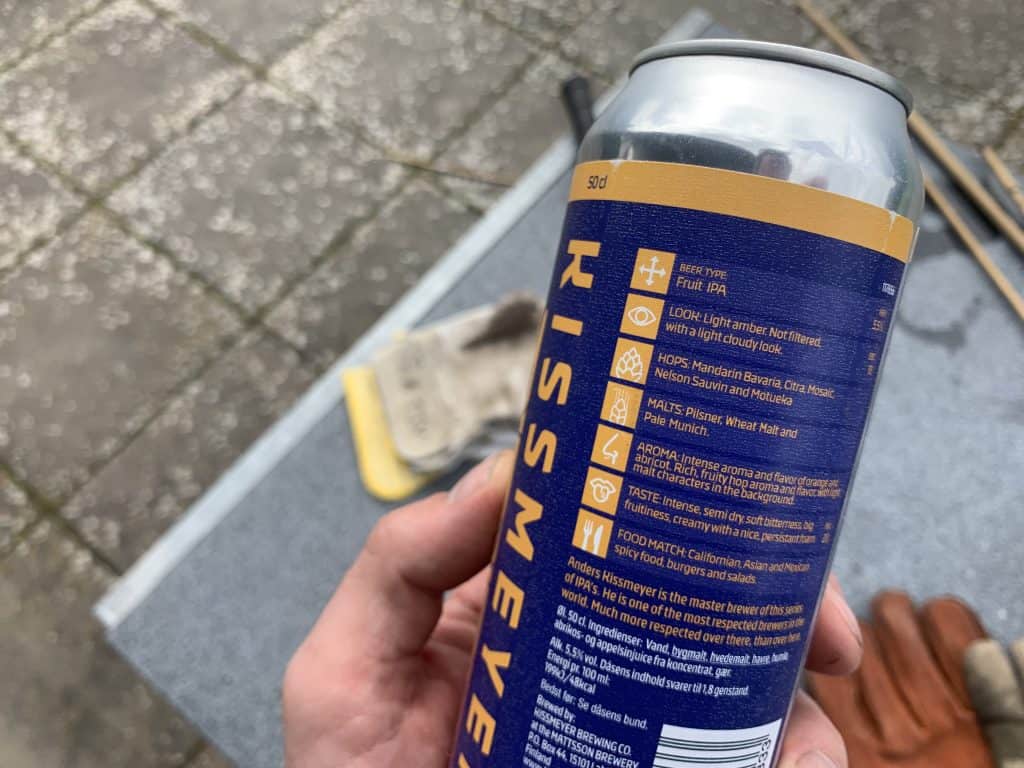 Toner: Der sker meget toner af mango og blomster eller honning.
Fylde: Fylde er der ikke meget af, men efter blomster og frugten er forbi kommer lidt blomstersødmen lidt som i hyldeblomst saft.
Udseende: Strågul og uklar. Minimal skum.
Bitterhedskala: (4/5)
God til:

Kissmeyer Fruit API anmeldelse
Min stjernevurdering: (4/5)
Smagen starter rigtig godt og den søde sommerblomster og frugtsmag er en god oplevelse og øllet lever op til title og indpakning. Den lever på alle fronter … i starten. Grunden til, at den ikke scorer i top er bitterheden til sidst. Den passer heldigvis til typen af øl, men der er noget brændt og hengemt over det, som sender tankerne i retning af gammelt loftpulterkammer.