New England IPA for begyndere med hvedeøl-stemning…
Bryggeri: BrewDog
Type: New England IPA
Indhold: 330 cl
Styrke: 5,0 %
Genstande:
Gærtype: Overgæret Undergæret
Fra etiketten: Exotic, Guava, Juicy. New England decamps to the tropics for a juicy makeover that turns the exotic fruits up to 11 for this hazy IPA with a tropical twist. Guava leads the way with notes of pineapple, mango and stone fruit following on. Brewed with oats and wheat and left unfiltered for a fruity smooth journey.
.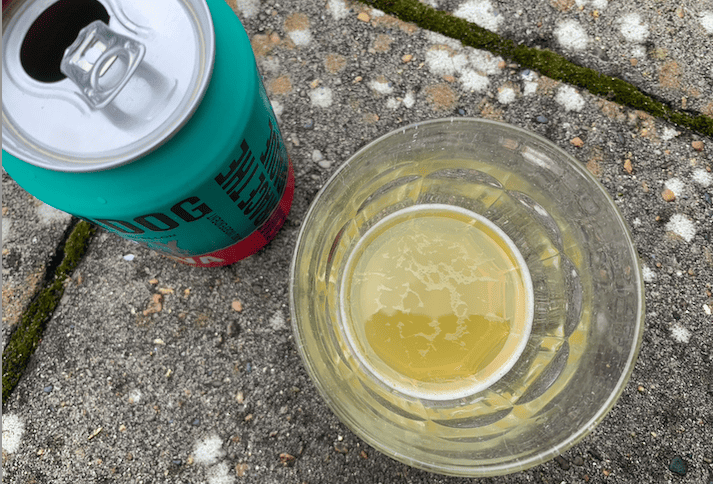 Toner: Der er en klar oplevelse af mango/fersken og sansynligvis Guava, som jeg ikke er sikker på, jeg nogensinde har smagt.
Fylde: Fylde er der ikke meget af, men det vil der heller ikke nødvendigvis være naturligt her. Der er dog fornemmelse af rørsukker sødmen mit i smagen.
Udseende: Lys gul uklar og med sparsomt skum.
Bitterhedskala: Rimeligt bitter, men ikke dominerende (3/5)
God til: Her skal man måske balancere lidt da IPA ellers er god til mad, men sødmen i den her kan blive forkert i forhold til meget mad. Jeg ville nok gå med noget spicy eller andet krydret. En salatbowle med chillidressing måske.

Hazy Jane Guava anmeldelse
Min stjernevurdering: (/5)
Jeg synes Hazy Jane Guava er en rigtig god oplevelse, og skal du introducere nogen på ny til IPA er den her en mild start. Den bærer mange af øltypens kvaliteter som blomstertoner, bitterhed og sødmen.