Bryggeri: Svaneke Bryghus
Type: Pale Ale
Indhold: 50 cl
Styrke:  4,8 %
Genstande: 1,6
Gærtype: Overgæret
Fra etiketten: Vores American Pale Ele er en slank lys øl med humlen skruet rigtigt sammen. Duft og smag præges af fersken, appelsin og passionsfrugt og frisk vedhængende bitterhed.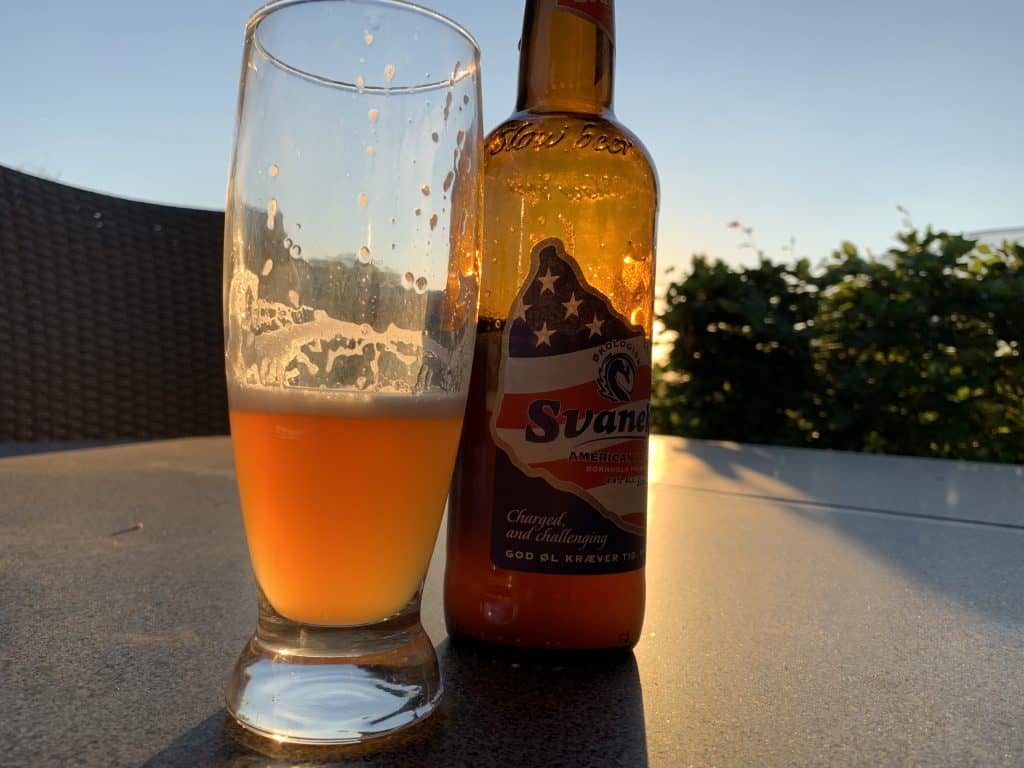 Toner: For en gangs skyld synes jeg at reklameteksten passer. Jeg kan nemlig godt genfinde smagen af fersken – selvom jeg først synes det var lidt hen efter ananas.
Bitterheden er også klar nok og selvom den ikke er så dominerende som ved andre pale ale's, er ideen klar nok.
Fylde: Fylden er mest som en klassisk hvedeøl mere end noget andet. Den er frugtagtig og let, men en bitter afslutning, næsten om almindelig pale ale.
Udseende: Gul og uklar med svag antydning af noget rødt. Begrænset brus og skum.
Bitterhedskala: (3/5)
God til: Den lidt pudsige blanding mellem hvedeøl og pale ale, gør den lidt svær at placere. Jeg tror ikke maden skal være for dominerende, og den kan i hvert fald stå alene uden mad på en fortovscafe.
Min beskrivelse: Som med andre Svaneke-øl lander denne øl også mellem to stole en en sjov blanding af hvedeøl og IPA.
Det hele hænger sammen og en god oplevelse, så jeg synes det er en god øl – jeg ved ikke rigtig hvordan jeg skal placere den eller hvad jeg skal måle den op imod. Nogle gange er det også bedre at være anderledes end bare bedst.
Min stjernevurdering: (4/5)
Min begrundelse for vurderingen: Øllen skiller sig ud ved ikke at passe ind i sin kategori. Da jeg er glad for begge de typer øl, den er en blanding af, får den her øl en god karakter, og jeg skal have den igen.